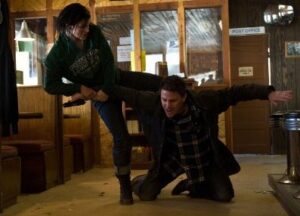 I don't know whether Gina Carano has a future as an actress but she certainly kicks ass in Steven Soderbergh's "Haywire," a jet-propelled action-thriller that has little time for wasted motion.
Working from a script by Lem Dobbs, who also wrote "The Limey," Soderbergh has made an intense and intensely lean little film packed with familiar faces and dark intentions. Most of those are aimed at Carano, as Mallory Kane, an operative for a private security firm used by the government for off-the-books operations.
As the film starts, she's a fugitive from an operation gone wrong. After rescuing a hostage in Barcelona, she's stumbled on dirty business within her own organization. Now she's on the run, trying to track down her own boss to figure out why she was set up.
The story itself isn't anything special; like most films of this type, it's a math equation in which you're solving for X and there aren't a lot of choices.
But there's some serious electricity in this film because Soderbergh is so intent on simply moving forward, watching the world from Mallory's point of view and figuring things out along with her.
This review continues on my website.