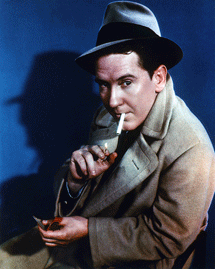 This year's blogathon masterminded by The Self-Styled Siren and Ferdy On Films and deploying a murderers' row of dozens of bloggers, is seeking donations for the Film Noir Foundation. Specifically, they will go  to fund the restoration of Cy Enfield's "The Sound of Fury" (1950) with Frank Lovejoy and Lloyd Bridges, which I've only seen via a poor public domain VHS release (under its original title "Try and Get Me") that I discovered at a dollar store on Steinway Street in Astoria, Queens a few years ago.
Such happenstance is a good segue to "Street of Chance," an early noir released by Paramount Pictures in October 1942 that really ought to be better known than it is. You might think that a movie produced by a major Hollywood studio would be less in need of preservation than an independent movie like "The Sound of Fury." That's not necessarily true – especially if, like "Street of Chance" it's one of the hundreds of B movies from the '30s and '40s that won't necessarily return the investment required for a photochemical restoration. (Eddie Muller of the Film Noir Foundation says there are 35mm nitrate elements at the UCLA Film and Television Archives).
"Street of Chance" has rarely, if ever, been shown on TV since the 1980s (it aired sporadically in late night spots on WNEW-TV in New York) and if the print that was shown at Film Forum a couple of years ago is any indication, it's sorely in need of some TLC. It's one of hundreds of pre-1948 talkies owned by Universal, which has done some wonderful preservation work on A titles, but apparently very little on those movies (including its own) designed for the bottom of double bills. (I've also heard from a couple of well-placed sources that Universal lost more film materials in a studio fire a couple of years ago than they've admitted to).
For years, it's been virtually impossible to see the B-movies turned out by Paramount in the late '30s and early '40s without resorting to bootlegs. Paramount's B's included many pre-noir crime movies (among them a terrific four-film series directed by Louis King — Henry's brother — based on "Persons in Hiding," a book attributed to J. Edgar Hoover) that had a reputation of being better than most of the studio's A product of the era.
These little films had impressive production values, but by the early '40s Paramount decided to save money by outsourcing most of bottom-of-the-bill efforts (which were rented for flat fees, as opposed to the percentages received for As) to indie producers William Pine and William Thomas. They were nicknamed the "Dollars Bills" because their economically produced bread-and-butter action flicks never lost money — and, with few exceptions, were also a lot less interesting and lively than those produced in-house.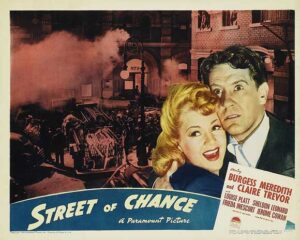 Produced in the waning days of Paramount's B unit, "Street of Chance" is the very first noir based on a novel by Cornell Woolrich ("Rear Window") one of the most prolific sources for the genre. It's also the noir debut of Claire Trevor. And a rare film starring role for the great Burgess Meredith, whose expressionist 1936 film debut, Alfred Santell's "Winterset" (long available only in fuzzy public-domain prints) is a fascinating precusor of noir.
Like so many noir heroes to come, Meredith is an everyman amnesiac in "Street of Chance." And not unlike Ronald Colman in Mervyn LeRoy's lavish romantic drama "Random Harvest" (released by MGM two months later) he lives a radically different life after suffering a blow to the head. This being a B-grade noir and Greer Garson not waiting patiently on hand, Meredith recovers memory of his "normal" life after a load of bricks hits him in the head on Paramount's New York street. It turns out he's been gone for two years, much to the distress of his wife Louise Platt.
What has he been up to? Well, he's been hanging out with shady lady Claire Trevor, natch, and a thuggish police detective (who else but Sheldon Leonard?) thinks Meredith is responsible for killing Jerome Cowan (yes, Miles Archer of "The Maltese Falcon").
The director of the 74-minute wonder is former film editor Jack Hively, who ably directed three "Saint" detective pictures with George Sanders at his home base, RKO — as well as "They Met in Argentina" (1941), arguably the strangest movie made as part of Hollywood's effort to keep Latin America out of World War II.
It's interesting to imagine what a bigger-budget version of Woolrich's novel, described in some of the advertising as a "best-seller," might have looked like. It was adapted for radio several times under its original title "The Black Curtain," and you can hear a "Suspense" broadcast starring Cary Grant, no less, right here .
"The Black Curtain" was also adapted as the ninth episode of "Alfred Hitchcock Presents" an early directorial credit by Sydney Pollack that is available on DVD as part of the series' first season. Hopefully, Universal will also let "Street of Chance" out of the vaults too after a refurbishing. So dig deep and click here to donate. Or else.
For a constantly updated list of other posts to this blogathon (it runs through Monday), go to Ferdy or The Siren, whose efforts were celebrated yesterday by an editorial in a certain newspaper on W. 43rd St.
More at the New York Post's movie blog.